When you admire an interior designer, you want your home to look just like theirs. You follow their style preferences on Instagram, in shelter magazines, and on TV. You may even purchase their furniture, rugs, furnishings, and conversation pieces. But what about their wallpaper? One way to channel an interior designer's signature aesthetic is by adorning your walls with their interior designer wallpaper. In this spirit, here are 3 designers whose wallpaper will allow you to bring their design aesthetic into your home.
Channel Their Style With Interior Designer Wallpaper
Candice Olson: Toronto-based interior designer Candice Olson is famous for making sophisticated, modern design practical and accessible with her show Divine Design. Like her interiors, her wallpapers feature classic designs and clean lines in bold colors as well as calming neutral tones. Candice Olson's wallpapers merge contemporary style with timeless design as paisley becomes lyrical, ocean waves gain order, and flower blooms turn into diamonds. Other wallpapers by Olson are even more strikingly modern, like this kaleidoscopic wallpaper and molten onyx wallpaper.
Jennifer Mabley & Austin Handler: Husband and wife duo Jennifer Mabley and Austin Handler are known for their stylish coastal interiors inspired by the Hamptons, where their design firm Mabley Handler Interior Design is based. Like their beach chic style, their grasscloth wallpapers are neutral and understated, available in dark and stormy grays as well as light sand, cream, and off-whites. These woven walls evoke images of crisp summer linens and tweed, ideal for a cottage in Carolina Beach or a coastal getaway in Wrightsville Beach.
Kelly Wearstler: One of the freshest faces in the design world, Kelly Wearstler is known for her global luxury lifestyle brand, one characterized by frenetic pattern work and modern, eclectic decor. Like her interior designs, her wallpapers vary in style, form, and color, but they always demand attention. Cloudlike turquoise wallpaper energizes an accent wall, while black figures on golden wallpaper dance above a modern dining room.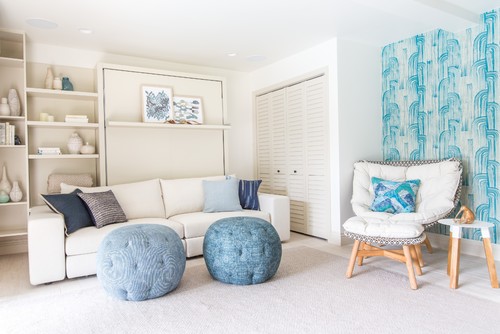 Interior Designer Wallpapers
With wall coverings, interior designers can distill their design philosophy into one beautiful pattern you can put on your own walls. If you'd like to translate an interior designer's aesthetic into your home, you don't have to buy their entire collection – you could just start with their wallpaper! If you'd like to install designer wallpaper in your home, contact us at Strickland's Draperies & Fabrics. We'll help you find the right wallpaper for your space. From the first free initial consultation to the final installation, we guarantee designer-quality wall coverings.